Futurosity #1
Sri Lanka forbids social media : Nudging for climate action : Surveillance Capitalism and what to do about it
Hello,
This is the second instalment of the Futurosity newsletter. If you're reading this that means you're part of the very small band of early testers that have agreed to help us make it better. We are grateful for your time and feedback. What we (Sebastian and Fredrik) are trying to learn is whether you find these topics interesting or not, and why that is. We're not trying to sell anything or go viral. We want to establish an ongoing conversation that makes for genuinely interesting conversations every week. Once we've done that we can all think about what to do next.
We're experimenting somewhat with the format. Feel free to just reply to this newsletter with all and any feedback. Thanks again!
---
3 nugget-sized observations
1. Nudging towards desired behaviour - the world's first credit card with a carbon limit
Swedish startup Doconomy are releasing a credit card that will not allow you to spend above your carbon footprint limit. Interesting. This reminds us of the picture above and what we learned at the GamifyUs conference last year in Stockholm: you can encourage people to make new choices through more or less subtle hints. This discipline, we discovered, is called 'Nudging'. We were impressed by the Stockholm-based behavioural design lab and how they use Nudging to drive new consumer patterns, reduce waste and change what people choose to do without ever writing a single rule. It will be intriguing to see whether Doconomy's system for self-imposing limits on one's own consumer behaviour will nudge people in the desired direction.
Doconomy explainer video on their carbon-limited credit card, 2 minutes long
                      Photo by Eric Kilby
2. How to behave better in your Jaguar - put in on the Blockchain
Have you put anything on the Blockchain? You know, the decentralised computer network that underpins Bitcoin and all other cryptocurrencies? Probably not, and that's all right. However, car maker Jaguar would like to reward its customers for sharing the data that their cars generate by paying them with cryptocurrency. The important takeaway is that Jaguar recognises that customer data is valuable, and should be paid for rather than taken for granted. This ties nicely in to our next point.
Short piece from Reuters about why Jaguar is climbing onto the Blockchain
3. Book recommendation - The Age of Surveillance Capitalism by Shoshana Zuboff
We're in the process of absorbing what amounts to be a very convincing argument for government regulation of the Internet. Shoshana Zuboff, whose day job is to be a professor at Harvard Business School, paints a detailed picture of how data is indeed the new oil and argues that the unrestricted use of it for profit will be just as bad for the planet as fossil fuels. This book explains why your every online activity is tracked, how that data is being brokered and eventually returned to you in the form of a targeted ad. Shoshana has ideas about how to change this paradigm, and Jaguar is not far off.
Consider buying her book straight from her publisher, and not Amazon
Podcast interview with Shoshana Zuboff by Nilay Patel of the VergeCast
---
1 slightly longer opinion piece: 'The future is private'
TLDR:
'The future is private' the emperor-CEO of Facebook said. 'You hope to avoid being broken apart by the government', everybody replied. Meanwhile, Facebook and other social media platforms were in an unprecedented move banned altogether by the Sri Lankan government. Is this a sign of counter-globalisation? Will the internet become closed and regionalised? What will happen to all the memes?
LONG VERSION:
'The future is private' Facebook declared this week during its annual conference for developers. Gone are the days of sharing everything to everyone, here is a new dawn of privately encrypted messaging and smaller group conversation. Mark Zuckerberg himself - founder, CEO and equipped with enough voting power to overrule even a united board - affirmed on stage and with a fixed smile what had already been declared weeks ago.
All the Facebook keynote announcements, 12 minute video on Youtube
Apparently, things are not well in the News Feed. Evidently, the algorithms that have built an advertising profit machine, only comparable to Google, are there to capture and retain people's attention - at all costs. This system has proved itself to be laughably easy for sophisticated actors (hello Putin) to manipulate, and for anyone to abuse (the recent tragedy at Christchurch, New Zealand, is one abhorrent example of this). A few tilted elections, more than one incited genocide and innumerable lesser scandals later and Facebook has decided that the future is private. So private, in fact, that not even Mark Zuckerberg himself will know what you and your friends are talking about. In providing fully encrypted messaging across Facebook itself, Instagram and Whatsapp (yes, they own those two as well, remember) your privacy will be so much your own that the platform can no longer be blamed for what people use it for. Seems to be the strategy.
This is a smart proactive move. Senator Elizabeth Warren, who has declared her intentions to succeed Trump as the next US President, is paving her way to the White House with a deadly clear intent to 'break up' the big tech companies. She is not the only politician to have noticed that an increasing number of voters wish to see the 'disruptors from Silicon Valley' be brought to heel. The EU has launched several cumbersome laws aimed to do exactly that, and the privacy commissioner of New Zealand recently went on record with calling the leaders of Facebook a pack of 'morally bankrupt pathological liars'. Ouch.

But Sri Lanka was the first country to take the obvious step. Last week, following recent suicide bombings, they banned social media outright so as to stop the spread of misinformation. Sri Lanka is a place where most people get their news exclusively through their smartphones and mediated by platforms such as Facebook.
3 minute read from BBC on why Sri Lanka made this move
Kara Swisher's column on the same topic, from New York Times (paywalled)
In China, where the government exercises another level of decision power over the Internet, the Western technology companies have not been allowed to take hold. Instead of Facebook; WeChat and TenCent are the primary vessels of online life for literally billions of people - making for a very different experience of the Internet than elsewhere.
China cannot be compared to Sri Lanka, but we believe that what we're seeing right now is a counter-reflex to online globalisation. A handful of monopolies, often referred to collectively as GAFA - Google, Apple, Facebook and Amazon, have seized a global hold onto their respective markets. They have captured almost all of the value while paying very little in terms of tax or indeed concern for the disrupted. Late to the party they may be, but governments are waking up to the problems caused by the once so worshiped tech companies and demanding either heavy tribute or that they leave and don't come back. This movement is in our humble opinion good, bad, weird and everything in between. Above all; this was inevitable, and the question is: what will happen next.
Will we see a national fragmentation of the Internet, where governments try to create Google search engines exclusively for their own countries? Will Facebook avoid being broken apart by US regulators through its strategy of encrypting itself first? How many more countries will follow Sri Lanka in banning the current crop of social media platforms? What will all the growth hacker ninjas do for work now that the online ad model seems to be rapidly dying? What would be a good outcome of an Internet that was less libertarian and more defined by the laws and structures that govern our analog world? Hit reply to this email and let's discuss.
---
A three-dimensional workshop about how to navigate the future. In a briefcase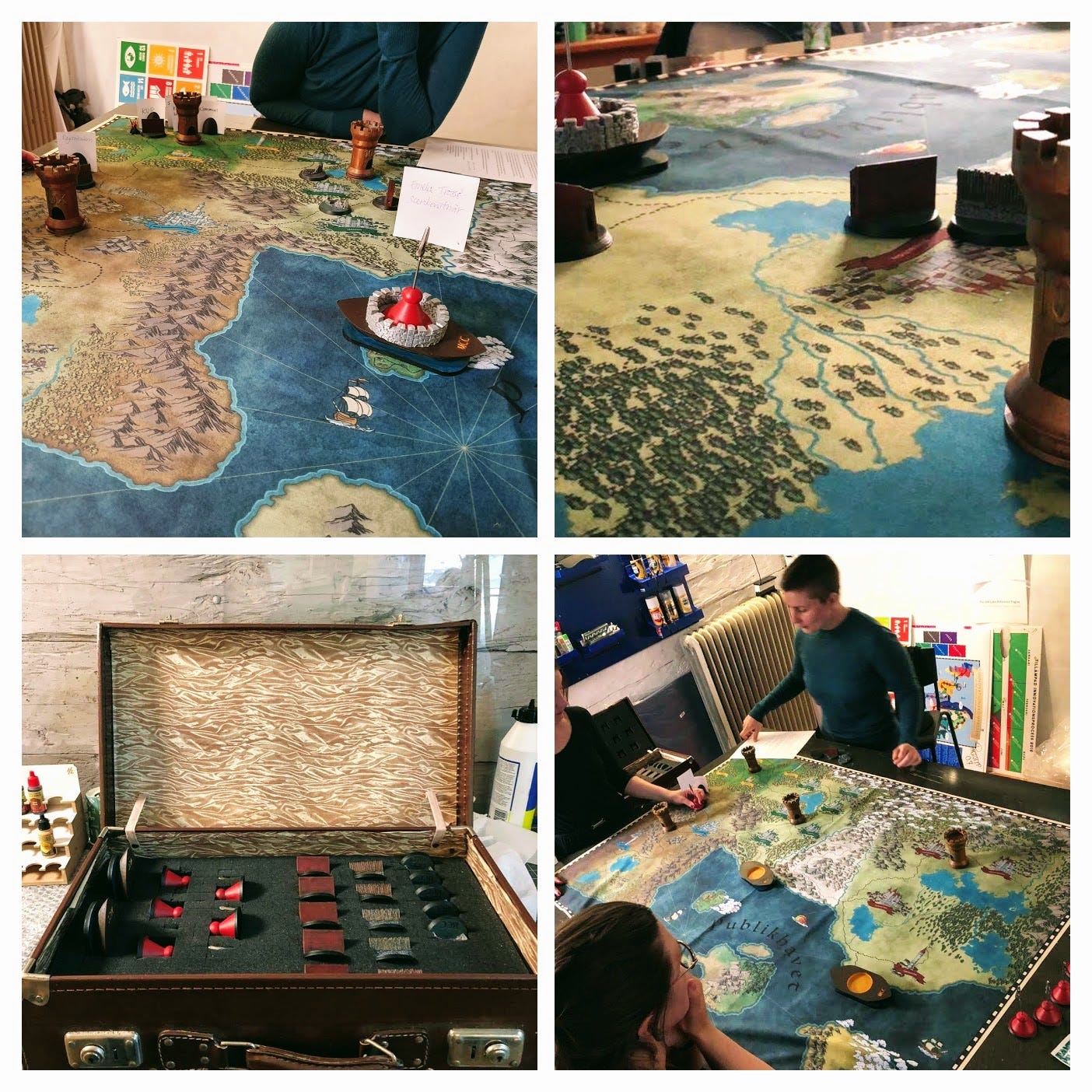 Last week we showed you a work in progress of how we're building an analog simulation environment for testing ideas about how to knock down monopolies. Today we want to show our latest learning device that we've developed together with our colleagues Anna and Rebecca of the Maker Culture Collective. It's a workshop in a box, or rather a briefcase, that helps participants establish how to better fund, create and distribute professional dance performances outside of the big cities in Sweden. How the makers of art on the periphery can cut their own path through a centralised system that favours the few and already successful.
The MCC Dance Map (working title) is a learning experience that we've designed using our own 'How to Map the Future' framework. It provides a system for translating a complex set of parameters into an illustrated map complete with physical models and props. We're liberating information otherwise imprisoned inside PowerPoint presentations and make something akin to a board game out of it. It easily becomes fun, and works all the better because of it.
Have you worked with gamification in any way? What were your experiences with this method and design tool?
---
Curiosity for the Future
That's the feeling we're trying to spread here. All the available and scientifically sound data tell us that on a global average we're currently living in the most peaceful, affluent and prosperous time ever in human history. It doesn't feel that way when scrolling through the news, and there's certainly a looming plethora of grand challenges that must be solved. Our point is simply that, when taking a long view of history, the human species does precisely that - we overcome grand challenges time and again.

However, we can't do that if we're afraid. And the first step towards gaining courage, we believe, is to become curious. Future-curious. What we call futurosity. This newsletter is one of many channels that we want to deploy in order to spread that feeling, and hopefully we'll get to do so in collaboration with you.
These are exciting times,
Sebastian & Fredrik